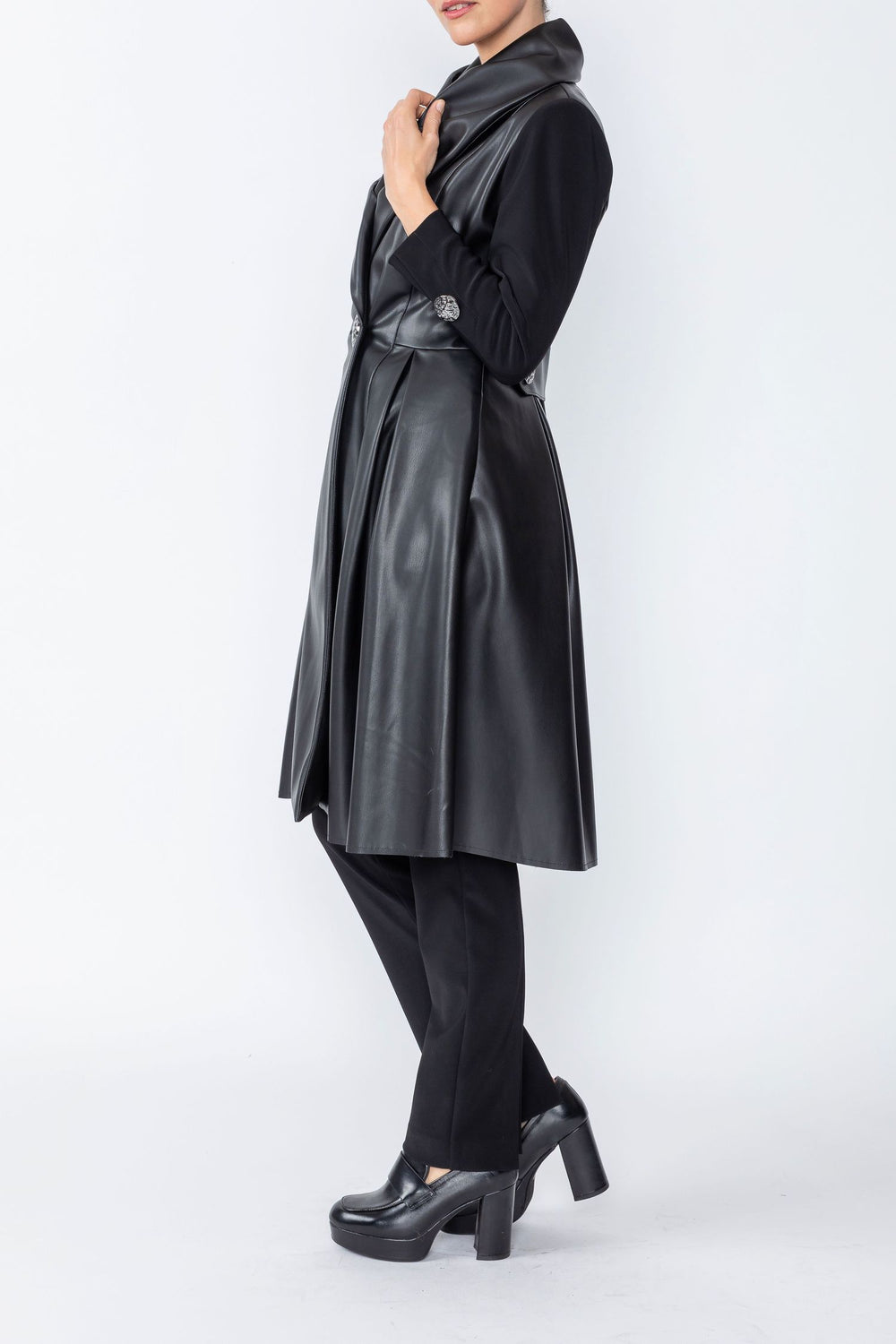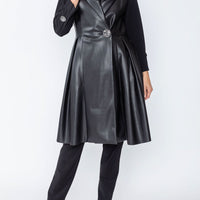 Indulge in the luxurious fusion of elegance and sustainability with our Knee-Length Jacket. Its gorgeous shawl collar and vegan leather construction exude sophistication and poise. The 50/50 blend of PU and polyester provides ethical chic, while the pleated design adds depth. The pièce de résistance comes in the form of a sparkling crystal buttons, which lends modern glamour. Vibrant contrast fabric on the arms lends a dynamic edge, making this jacket the perfect accompaniment for any occasion. Showcase your personal style with tailored trousers, or style it with a cocktail for a night out. Discover the epitome of style and conscience in this elegant piece. Make a statement in vegan leather and let your refinement shine through. Pants 96% Polyester and 4% Spandex. 
All orders shipped within the continental USA over $200 receive free standard shipping.
Standard Shipping (3-5 business days)
Priority Shipping (1-2 business days)
See our complete Shipping Policy here.
Pickup available by appointment only
San Lorenzo, California
+1 (510)-585-3526
Mon - Sun, 9am - 8pm


Got questions about this product? Send us a message here and we'll get back to you within 24 hours.
Élan (ey-lahn)
ENERGY. STYLE. PASSION
Élan of Eulalia is a fashion boutique that carries a curated selection of eclectic and eccentric statement pieces for vivacious women. You'll find pieces from small designers and ready-to-wear items at reasonable prices so you can mix high and low fashions. We want to cultivate a personal style that is both witty and exuberantly idiosyncratic. We dress confident women who are not afraid to make a statement wherever they go and create a safe space inclusive of all shapes and sizes.