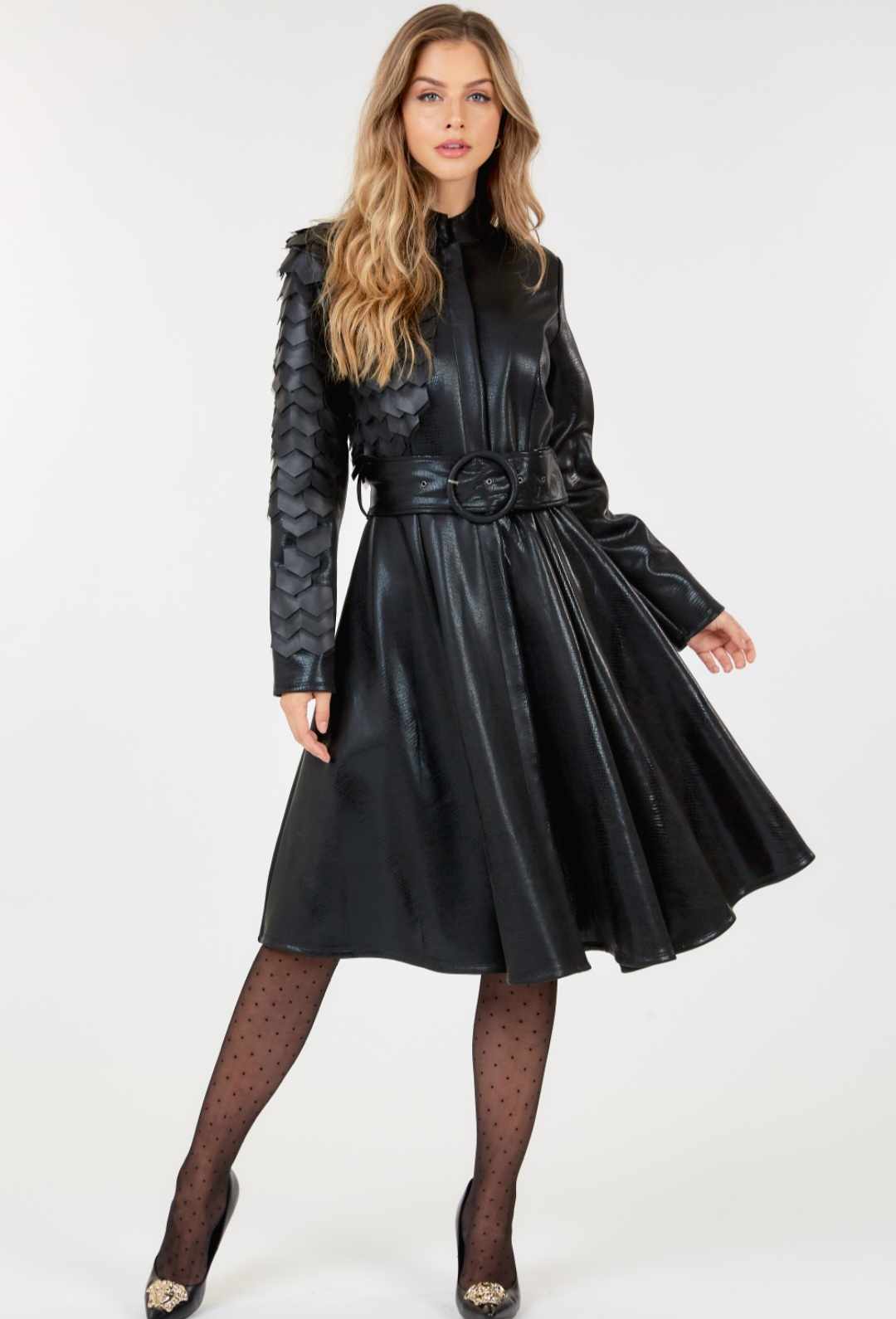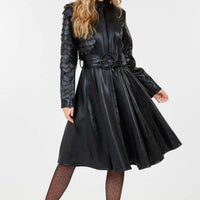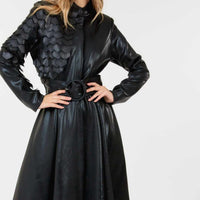 Black Scaled Jacket/Dress
Embrace the unconventional with our Faux Leather Scaled masterpiece. In the boldest shade of black, it's a symphony of defiance against the mundane. The flared bottom dances with every step, defying gravity and expectations. The cinched waist, bedecked with a circular buckle, is a rebel's proclamation. With one arm covered in a layered scale, it's a nod to the untamed spirit. Crafted from an amazing blend of 95% polyester and 5% Spandex, the outer shell molds to your every move, while the contrast, a daring 55% polyester and 45% PU, tells a story of bold contrasts. Care for it as you would a precious secret—cold water handwash, no wringing, no bleach, no tumble dry. Concealed snap buttons keep the mystery alive, and a stretchable soul ensures this trench moves with you, not against you. This isn't just a coat; it's a manifesto of individuality.
***Stretch***
All orders shipped within the continental USA over $200 receive free standard shipping.
Standard Shipping (3-5 business days)
Priority Shipping (1-2 business days)
See our complete Shipping Policy here.
Pickup available by appointment only
San Lorenzo, California
+1 (510)-585-3526
Mon - Sun, 9am - 8pm


Got questions about this product? Send us a message here and we'll get back to you within 24 hours.
Élan (ey-lahn)
ENERGY. STYLE. PASSION
Élan of Eulalia is a fashion boutique that carries a curated selection of eclectic and eccentric statement pieces for vivacious women. You'll find pieces from small designers and ready-to-wear items at reasonable prices so you can mix high and low fashions. We want to cultivate a personal style that is both witty and exuberantly idiosyncratic. We dress confident women who are not afraid to make a statement wherever they go and create a safe space inclusive of all shapes and sizes.